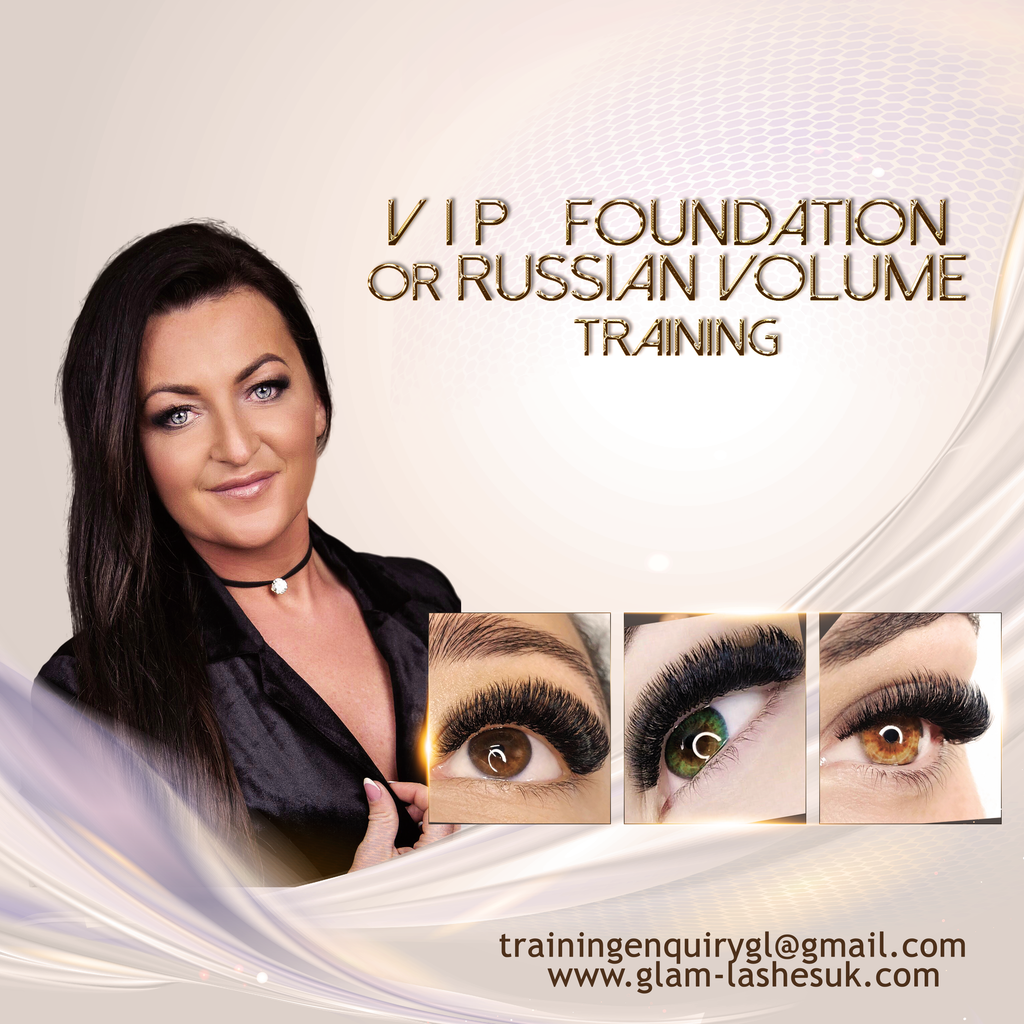 Glam Lashes by Marta
VIP ONE-TO-ONE FOUNDATION OR RUSSIAN VOLUME TRAINING ( Kit included )
Glam Lashes Academy VIP Russian Volume and Foundation Trainings - Norfolk
CONTENT OF THE FOUNDATION COURSE :

1. Tools
- Introduction to the different tools used and proper handling
- Introduction to different eyelash products 
- Proper use of glue (to avoid allergic reactions)
- Introduction to different eyelashes (curves, thicknesses and length)

2. Preparation
- Patch tests and client consultation
- Workstation preparation 
- Working with different eye shapes and bone structure
- Client consultation 
- Selecting the right type of lash set and size

3. Application Techniques
- Understanding and handling different lashes
- Attaching lashes. Lashing Gold Rules
- Removing eyelashes
- Eyelash Care

4. Marketing and Business Tools
- How to take professional photos of eyelashes
- Building a professional portfolio
- Marketing your business
CONTENT OF THE  RUSSIAN VOLUME COURSE

Tools and products for volume eyelash extensions. On what to focus your attention when lashing? What could affect the speed and the quality of the work.
Everything about the glue. The reasons why lashes are not lasting. How to choose the right glue.
Allergies and common mistakes that irritate the eyes
How to choose the right thickness for Russian volume lashes
Preparing the lashes for a better attachment, what to use to have a better retention
Extending the knowledge in styling and mapping so you can choose easier the right style for your client and make it individual.
Perfect lash line. No more funny lashes
Direction of the lashes
Glam Lashes different volume techniques (2D, 3D, 6D)
The right distance between the lash and the eyelid. New rules
How to correctly apply the volume fan on the natural lash
Infills, how to clean the lashes and fill in volume extensions
Pricing for volume eyelash extensions, infill prices
How to take beautiful pictures of your works. Marketing your busines
Kits are included in both Foundation and Russian Volume courses. 
REQUIREMENTS for Russian Volume
You need to be trained as a lash technician and have at least 3 months of experience to attend a course.
Please send a scanned copy of your lash certificate to the following e-mail address: trainingenquirygl@gmail.com
MODELS
Please note you will need to bring a live model to practice on (model should arrive at 2.30pm for Foundation Course or 3pm for Volume Course). 
NB! If you are coming from abroad, Glam Lashes is able to arrange you a model for an extra £40 fee. Please give us the notice at least 7 days before the course date.
LUNCH
Lunch (sandwiches, salad, snacks, tea, coffee etc..) is included in the price of the course. If you are vegetarian, if you have any food allergy etc.. please let us know about it before the course.
CANCELLATION POLICY
If you unable to attend the course, you must let us know at least 14 days before the date of the course. If you cancel your course without giving 14 days prior notice we will unfortunately be unable to refund you the cost of your deposit.
PAYMENT INFORMATION
Please note - the remaining payment for your course should be paid 14 days prior to your course. We will send you a link to the payment page so that this can be made safely and securely. Glam Lashes are unable to take payment in the academy.
If you have any additional questions feel free to contact us:
whatsApp: +447826558566
insta: glamlashes_bymarta
email:  trainingenquirygl@gmail.com
PLEASE BE AWARE that completion of this course does not guarantee that you will receive a certificate at the end of the day. If your trainer feels that you could benefit from further practice you will be asked to complete case studies on live models so that we can help you to develop any necessary skills. In this instance we will send your certificate to you by post.
LOCATION
49 Lowestoft Road
Gorleston
norfolk
NR31 6SH
Location can change depend of the amount of students 
---
More from this collection